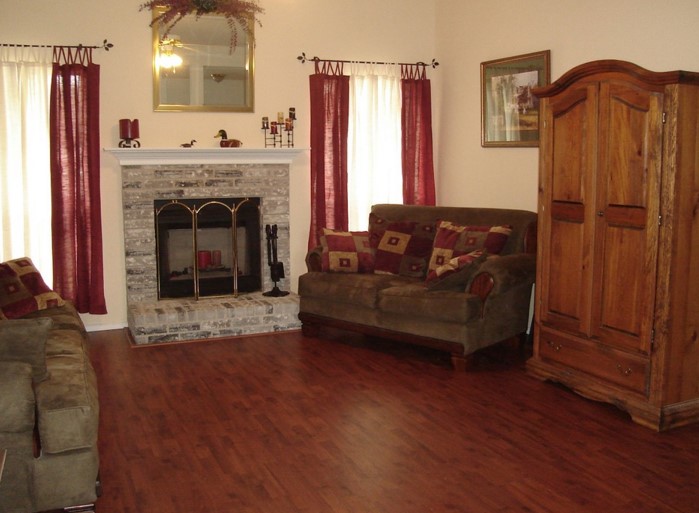 Does your living room need a bit of updating?  Are you seeing some inspired decorating tips? Your living room redecorating doesn't have to be a major project. With a few simple tips, you can completely change the look of your space, but still recognize it as your own!
Lighting Changes Shapes and Space
Changing up your living room's lighting scheme can do incredible things for a room. If you have a main source of lighting, such as a ceiling lamp or row of track lighting, consider either replacing them with, or adding to them some floor and/or table lamps. Simply changing these focal spots of illuminations and shadows can make your room feel fresh and new.  It's really a simple step with big results.
If you have track lighting, changing the position can also dramatically change the shape of the room and also create new focal points such as on a particular wall or a fireplace.
Make a Memory Wall
A good focal point of a living room is a wall dedicated to photos of family, friends, and mementos such as those "first drawings" by your children, or ribbons from school events.
A Book A Day
A recessed bookshelf as part of – or entirely using – one wall is like art in and of itself. Some homes come with recessed bookshelves, but it's not difficult to construct your own. The wall can be a complete recessed shelf, or you could do staggering and protruding shelves up a wall which provides a more modern touch.
For classic living room design, use lots of books of all types to give a 'cozy conservatory' type of feeling, or use a few large hardbound books for a more contemporary feel.
Whichever design style you choose, make sure it's yours. There are many styles available, and it's up to you to choose just the right touches to make your living room into a true sanctuary, for your mind and your body.