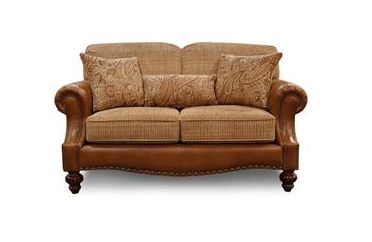 The loveseat remains a popular room to furnish rooms in your home. They are comfortable and they provide a little more seating than a single chair, but they take up less space than a common couch. Finding the perfect loveseat can be a exciting journey and typically involves the consideration of the following factors.
1. Choice of fabric. When you go in search of your perfect loveseat you'll want to plan in advance whether you are looking for leather or fabric. Leather can be very durable and often comes in a single color. Fabric options on a loveseat are endless and should match the décor of the room you plan to put it in.
2. Plain fabric or print? If you decide on fabric, you'll need to choose between all sorts of fabrics. One benefit of choosing a single color fabric over a print is accessorizing. This choice allows you more flexibility on the choice off colorful pillows or afghans that can be changed out with the seasons. A print fabric has multiple colors that you can accessorize around as well, with one color chosen from the print to place a single color throw or pillow that matches other furniture in the room.
3. Charm or durability or both? Do you prefer a rugged, hearty loveseat that is welcoming to kids and pets, a fine fabric that you know will look great on your loveseat or do you want it all?
4. Convertible or regular loveseat? Some loveseats can be converted into a single bed. This is convenient prospect for a single bed and is much more comfortable than sleeping on regular loveseat.
5. Ottoman or no ottoman? Many loveseats can be purchased or ordered with a matching ottoman. An ottoman is basically a foot rest, but in the right environment it can serve as a table. The ottoman can also provide additional seating as necessary.
Whatever you decide, the key to finding the perfect loveseat is to plan ahead and consider the ways you wish to use it in your home. Consider all the loveseats offered by England Furniture and find your perfect loveseat.