Wall décor can be the hardest thing to look for and find, and when you find the perfect piece it can be really expensive. The next best thing to buying your perfect piece is making your perfect piece! Do it yourself wall décor can be easy and inexpensive. Here are a few pieces you can make today.
Patterned Canvas – If you want to give your living room that pop of color you can easily make a patterned canvas. All you need is a piece of plywood and your favorite fabric to go with your living room style. You can either leave the plywood as one piece or cut it into three separate pieces. Once your plywood is ready you're going to take your fabric and drape it over one side. Take a staple gun and staple along that one side, you're going to do this to all the sides but make sure you pull the fabric tightly. This should give you beautiful "canvas'" to hang on your wall.
Pallet Quote – If you have some old wood pallets lying around you could use them as wall décor as well. Just paint over the wood with your favorite color, let it dry. Once your paint is dry you can use some stencils to paint the quote you want on the pallet. Let it dry for a day and you're all set to hang your new art piece.  Check out this one great example from the blog, Life as a Losey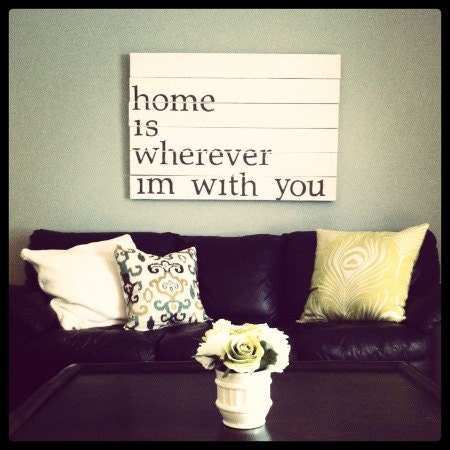 Source: Life as a Losey
Mirror Frame – A great must-have piece in your living room is a mirror. An alternative to going out and buying an expensive already made mirror, is making it yourself. For this project, you're going to need to buy some paint, a mirror, and a wood frame. You simply paint the wood and secure your mirror to the frame. Now you have another accent piece which will make your living room look elegant.
Hang your DIY décor pieces over your England Furniture sofa and give your living room a POP!